HAIR STUDIO 701
Hair Studio 701 officially opened for business on Friday, December 13th. Ashley Schmidt, owner and operator, has always dreamed of being able to open her own business and now her dream is a reality. Hair Studio 701 is located on Main Street Anamoose. Ashley received her degree from the Bismarck School of Cosmetology in 2009 and has been practicing ever since. She was working at Hair Oasis in Drake but is excited to be able to have her own business in Anamoose where she lives, and her children attend school. Hair Studio 701 is open for business Tuesday's through Saturday. Ashley can be reached for appointments by calling 701-399-9858 or can be messaged on either her personal Facebook page or her Business FB page: Hair Studio 701.
Ashley provides basic haircuts for all ages as well as highlights, Malibu treatments, tape in Hair Extensions, deep conditioners, and waxing. Ashley has hair products availabe on hand but is also able to order products if they are not.
Ashley and her husband Josh live in Anamoose and have two children.
Ashley Schmidt, owner and
operator of Hair Studio 701.

Mardi Helm, customer at Hair Salon 701.
---
BRAD WAGNER, MANAGER OF NEW 1909 STEAKHOUSE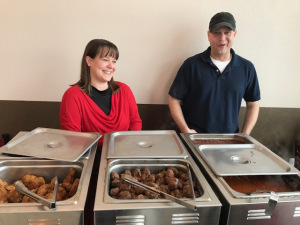 Brad Wagner and sister Beth Housh
Brad Wagner was born and raised in Jamestown, ND. At the age of 16 he started his first job as a dishwasher at one of the city's fine dining steakhouses, WagonMasters Restaurant and Lounge. At the end of his junior year, he began cooking and did so for another 11 years until the establishment closed. He worked closely under the supervision of Jeff Kundert, the head chef, during his time there and learned a large portion of his culinary knowledge because of him. He attributes much of his success to Jeff and would not be where he is today without his mentoring.
After WagonMasters closed, he accepted a position at Perkin's Family Restaurant for several years-learning valuable aspects of management from the owner, Chris Mikkelson, as well as a vast amount of skill being a breakfast cook. It was there that he and a co-worker, Kyle Kukowski, decided to branch out on their own and give entrepreneurship a try.  In October of 2013 they moved to Maddock, ND and were the original operators of Harriman's Restaurant and the Bobcat Bar.
After a year, Brad choose to go out on his own and left Harriman's. For a time, he searched for another suitable place, where he chose LaMoure, ND. He purchaserd the old Wanda's Place and began renovation. He officially opened Cornerstone Grub & Pub in January of 2016, although the kitchen waan't complete. During the kitchen construction, a board member from Maddock reached out to him and inquired about returning to Harriman's to help as the other tenant was leaving and the town had no other candidates. Brad of course said yes because of how much he loved Maddock and all who lived there. So, while the kitchen was beinig built, he moved up North once again and operated Harriman's for the second time around. When a replacement was found, he moved back to LaMoure and launched a full menu.
After almost three years, and with a heavy heart, Brad chose to close Cornerstone due to extreme lack of qualified workers. It was impossible to continue without help and all possibilities were exhausted. It was during this transition he was contacted by a city council member in the tiny town of Hague, ND. After much deliberaton he decided to give it a shot as he never ran a small-town cafe before, and it may prove fulfilling.
In October of 2018, he re-opened The Hague Cafe. It took off very well with his creative dishes that the area was not used to having, and he managed to build quite the following from other areas. It also encouraged him to go outside of his comfort zones culinary-wise and try new things that this German Russian community was wanting. The pros of his time there were how he made himself grow as a cook and he added another variety of cuisine to his resume. When asked to reflect, he said he was fortunate to have the opportunity and the people were very nice, though when it came down to it, most just wanted pie and coffee and a burger here and there and "that's just not me".
In spring of 2019, Cheryl Linardon, city auditor of Anamoose, reached out to Brad about the steakhouse project. Brad decided to make a visit and liked the progress he saw. He was mostly impessed with the story of how they didn't want another historic building demolished and so chose to restore it. Rather than tear down they wanted to build up and it reminded him a lot of Maddock. Their vision was a steakhouse with a small bar and that lined up perfectly with his roots. He had never operated a steakhouse since his time at WagonMasters, decades ago, and that was truly his passion.
After meeting with the Job Development Authority of Anamoose many times, he was chosen as the candidate and accepted. It was a tough wait as the construction process fell behind by ten weeks, though it was worth it now as the place is taking off quite well.
He says the menu is ever-changing and this first one is a "test run" to see how the patrons respond to the dishes. He does a different special each day that is not offered on the core menu and will be creating new options all the time. For now, he's featuring five different fresh-cut steaks, his secret recipe hand-pattied burgers, melts, wraps, salads, sandwiches, seafood, in-house smoked ribs, pastas with made from scratch sauces and a few desserts.
His sister, Beth Housh, has decided to relocate to help him run the 1909 Steakhouse. Brad says,"She compliments me to almost every degree.  Her work ethic is amazing, and her skills and imagination have no limit. She will be integral in certain parts of the business where I can't dedicate a lot of time to. She will excel in all areas though her focus will be on the front-of-the-house while mine is in the back."
Brad is very grateful for this opportunity and looks forward to serving this community and it's many surrounding areas for a long time to come.
---
MAIN STREET PROJECT COMPLETED
After many years of planning, the 1909 Steakhouse is now open for business. The Open House for the 1909 Steakhouse was held on December 7th. In spite of the bad weather there was a good crowd. The official opening was December 11th. The Steakhouse is open Monday-Thursdays 4-9pm, Friday and Saturday 4-10pm and Sunday 10-3pm. Burgers and fries are served every Thursday evening. The menu is on Facebook under 1909 steakhouse.
Brad Wagner is the owner/general manager. He has such a long resume that I have decided to put it as a separate article.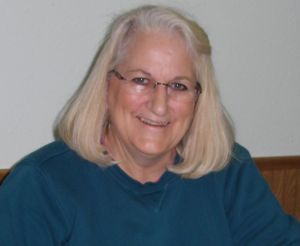 Bonnie Helm
Many years ago Bill  Davis of USDA stood on Main Street and told me that the historic bank shoud be made into a restaurant. At the time this seemed like a pretty far fetched idea. But in 2011 the historic bank building was purchased by 12 Anamoose citizens, the windows painted and curtains put up for the 100th Anamoose School Reunion. The group was called Save the Bank, but later decided to improve Main Street, and changed the name to MainStreams. A new roof was the first major improvement in 2011.
Bonnie Helm, McHenry Co. Job Development Director, wrote several grants from USDA Rural Development with the first grant  of $218,460 in 2016 and the second for $67,866 in 2018. Fundraisers were held throughout the years, including pinnocle tournaments; 4 Christmas Tour of Homes with soup, bread and dessert bar, 2011-2014; Christmas goodies sales; Christmas sunday brunch 2015; dinner theatre 2015" You Think My Tractor's Sexy"; and suppers served at the Market in the Park.
MainStreams sold the bank to the Anamoose Economic Development Committee in 2016.  Andy Melton and his assistant Troy Barrington, Anamoose, were hired to do the remodeling. Keven Duchsherer, Drake, redid the front entrance. He removed the entire front, rebuilt it, and restored it.
| | | |
| --- | --- | --- |
| | | |
| Historic 1909 bank- June, 2019 | Open house | Desserts |
| | | |
| --- | --- | --- |
| | | |
| Handicapped entrance on north east side | Stairs to second bathroom | East wall |
| | |
| --- | --- |
| | |
| Doors to the kitchen | Dining area with safe at the east end |
---
THE 2019 ANAMOOSE AREA COMMUNITY FOUNDATION GRANTS AWARDED - article submitted by Rose Weninger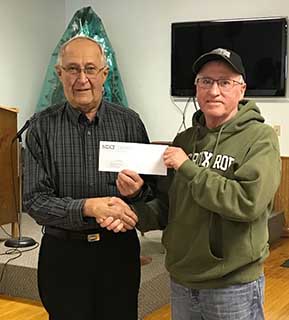 Steve Heim (right) accepting a grant from Joe Weninger (vice president AACF)
On Sunday, December 1st the Anamoose Area Community Foundation's Vice President Joseph Weninger awarded six grants to area non-profit organizations at the Anamoose Senior Citizens Center. The following grants were approved for the year 2019 by the AACF committee totaling $8,560:
$2,000 - Anamoose School Playground Upgrades
$1,500 - Anamoose Ball Park Concession Stand
$1,500 - Tri-County Meal Services Nutrition Program
1,500 - Anamoose Main Street Sidewalks
$560 - Anamoose Main Street Flowerpots
$500 - McHenry Co. Historical Society Cement & Floor Heating
The Anamoose Area Community Foundation was established in 2008 and provides a method of receiving donations to benefit nonprofit projects and programs in the Anamoose area. The Foundation is affiliated with the North Dakota Community Foundation, which is a nonprofit tax-exempt corporation under IRS code 501(c)(3) and North Dakota Law.
Theresa Hoke accepting a
grant on behalf of the Park Board.

Joe Weninger giving a grant to Bill
Goodwin on behalf of Meals on Wheels.

Joe Weninger giving a grant to Laurel
Schnase for the Main Street project.
---
ANAMOOSE AREA COMMUNITY FOUNDATION RAFFLE WINNERS - article submitted by Rose Weninger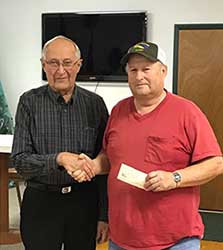 Doug Rademacher accepting his winnings.
Doug Rademacher of Anamoose had a smile on his face when his name was drawn for the grand prize of $550.00 in this year's AACF cash raffle drawing.  His wife Kathy purchased the ticket for him so hopefully he will share the money with her.
Only 500 tickets were available and there were twenty chances to win. All winnings were for cash with half the money collected in ticket sales being awarded in prize money.  Tickets were sold out two weeks before the December 1st drawing. 
Raffle winners are as listed:
Anamoose winners:  Doug Rademacher - $550; Pete Engen - $100; Lowell Dusek - $50; and Tory Martin - $50.
Harvey winners:  Bill Ongstad - $250; Mike Zwicker - $250; Nathan Keller - $200; Donna Marthe - $100; Larry Grossman - $50; Marlene Hoffart - $50; Julie Schaan - $50; and Chad Ziegler - $50.
Other area winners:  Miriam Smette, Towner - $150; Dean Beaudrie, Velva - $50; Diane Kwasigroch, Balfour - $100; Larry Zeeb, Goodrich - $50; and Cole Johnson, Minot - $50.
Out of state winners: Danielle Marie Deyarmond, Ventura CA - $100; Mark Ripplinger, Camarillo CA - $150; and Don Martin, Bemidji MN - $100.
Congratulations to all winners and thanks to everyone who have been supportive in helping AACF achieve reaching their annual fund-raising goal of $10,000. Since its origin in 2008, AACF has awarded over $66,000 to local non-profit projects.
---
DRAKE-ANAMOOSE RAIDERS ARE THE 2019 6-MAN FOOTBALL STATE CHAMPIONS!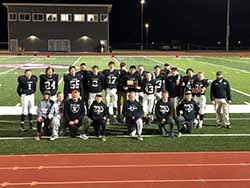 Back row L-R: Cade Melaas, Jaylee, Brandt, Danny Klimpel, Asst. Coach Bryan Doerr, Payton Martin, Hunter Fletschock, Matthew Jund, Kayden Boucher, Mason Lemer, Eric Martin, Asst. Coach Sean Doerr, Chayce Borchardt-Sieg, Kris Tinajero, Auston Lemer, Heach Coach Anthony Cook
Front Row L-R: Jr High Players, Kyle Volson, Zach Volson, Tyler Meckle, John Bossert, George Nickelson, Izaak Richter, Reggie Bruner
In only their second year in the ND independent 6-man football league, the Drake-Anamoose Raiders took the State Championship title. The ND state 6-man football league consisted of eight teams throughout the state and the Raiders football squad was very successful during the year. Game scores during the season were as follows, win vs. Drayton 51-0, win vs. Center-Staton 57-44, win vs. Mandaree 61-20, win vs. Williston Trinity 45-0, win vs. Alexander 40-6, and the Raiders received state-wide recognition in their scoreboard shattering 107-84 win vs. Midway-Minto.  Their record won them a spot in the state title game that was held at the Roughrider Center in Watford City on Oct. 19th vs. #2 ranked Center-Staton. The title game was a tough battle of size versus speed with many lead changes throughout the game. The C-S Wildcats relied on running the ball with their larger size. The Raiders utilized their quickness with multiple offensive threats and a balance of running and passing. In the end it came down to the Raider's Junior kicker, Cade Melaas's ability to convert on their extra point attempts while the Raiders line blocked the Wildcats' last attempt. The quarter scores were, Qtr 1: Raiders 20, Wildcats 14; Qtr 2: Raiders 26, Wildcats 28; Qtr 3: Raiders 56, Wildcats 48 and the Final: Raiders 70, Wildcats 68.
The Raiders at the end of the night, in front of a large, loud Drake-Anamoose fan section, brought home more that just the coveted State Championship title. Head coach, Anthony Cook, received the Coach of the Year award. The Raiders received an award for having the best record in the independent league season. Lastly, Sophomore Elijiah Nickelson, and Juniors Jaylee Brandt, Payton Martin and Hunter Fletschock were named to the 6-man All-State team. This capped off what will be a very memorable season in Raider football history.
---
ANAMOOSE WOMEN'S SOFTBALL 2019 REC 3 SLOWPITCH STATE CHAMPIONS
It only took 19 years but the Anamoose Women's Softball team did it again and won the State Rec 3 Championship in Minot. Although most of the faces from the 2000 win have changed (some were only little kids and a number weren't even born) a couple of players were on both teams. Holly Martin and Becky Fletschock were members of both the 2000 and 2019 teams. Kristin (Reinowski) Volson was just a little tot running around during the 2000 win as her mom, Debbie, was a player on that team.
2000 Team

2019 Team

Back Row L-R: Tara Uhlenkamp Berndt, Rylee Martin, Kim Meckle, Becky Fletschock, Riley Hauff, Theresa Hoke, Halie Fletschock, Holly Martin.

Front Row L-R: Kaya Engen, Karissa Gahner, Harper Fletschock, Kristen Volson, Madison Uhlenkamp.
---
FARMTASTIC FOOD HUB CELEBRATES ANNIVERSARY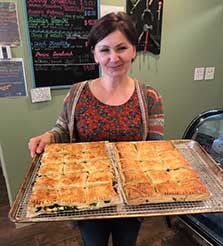 Julia with Spanakopita.
The Farmtastic Food Hub celebrated their first anniversary in March. In April, 2019, Mirec and Julia Petrovic started an International Buffet every Thursday evening from 4-7pm. They started out with Italian on April 25, then Hungarian, Irish, Russian, Indian, Greek, Brazilian, Polish, and will continue with Equadorian on June 20th and Japanese on the 27th. As their sign says "Travel the World With Us".  
Rose Weninger took some pictures at the Greek night The menu consisted of: Fasolatha (white bean tomato soup), lagana bread, Spanakopita (spinach Feta Pie), Moussaka, and Greek Salad. Rose said "The food was simply delicious, fantastic, just great".  Reannie May said the greek salad was exactly like the salad from Greece.The chocolate cake (a favorite of Father Bob Wipinsky) and the torte were sold out before the night was over. 
Julie and Mirek emphisize that everything is fresh and made from scratch. They check what they have available and use ingredients they have on hand for their menu for the day. Their menu uses local foods when available.  
For inquires call: Mirek at 570-994-3675 or Julia at 701-989-4514. Or email: m_petrovic@gmail.com or www.farmtasticheritagefood.com.
The chocolate cake.

The menu for Greek Week.

Menu for upcoming
international suppers.
---
SCHMALTZ GREENHOUSE IS A BUSY PLACE
Schmaltz Greenhouse has been as fun to visit as ever. The plants are in excellent shape and as colorful as ever. In addition Mike has many yard ornaments and bushes. He has a new line of geraniums; the American series. It has more foliage and buds. There is also a new petunia called the Paradise Petunia. The greenhouse is open on a regular basis until the end of June. After July first you can call for an appointment or just drive by to see if Mike is available.
| | |
| --- | --- |
| | |
| The new American Series Geraniums. | Kaylie Lemer showing the new Paradise Petunias. |
---
ANAMOOSE FIRE DEPARTMENT 2019 RAFFLE
The Anamoose Fire Dept. held a Chili Feed on Saturday, February 16 to announce the winners of the $30/ticket raffle.  The funds will go to new grass fire equipment. The following were winners:
1. Ice Castle-Donna Wolf-Fargo, ND
2. Honda Pioneer-Karhy Vetsch-Anamoose, ND
3. Gun safe-Allen Zuther-Martin, ND
4. Traeger Grill-Frank Sieg-Anamoose, ND
5. Gun Choice-Derrick Martin-Lincoln, ND
6. 55" TV-Taylor Harmel-Rugby, ND
7. FLX 28 Vexilar-Glen Mayer-Anamoose, ND
8. Dewalt Tool Set-Logan Haberstroh-Mott, ND
9. Ion Auger-Brad Fletschock-Anamoose, ND
10. Otter Hub Ice House-Jason Petterson, Epping, ND
11. $200 Cash-Jason Schultz-Towner, ND
12. $200 Cash-Nathan Martin, Anamoose, ND
13. $200 Cash-Stan Anderson, Granville.ND
14. $200 Cash-Nathan Martin, Anamoose,ND
15. $200 Cash-Greg Vallard-Minot, ND
16. $100 Cash-Darin Aaseth-Velva, ND
17. $100 Cash-Tammy Doubek-Anamoose, ND
18. $100 Cash-Tyler Johnson-Bismarck, ND
19. $100 Cash- James Paulus-Denhoff, ND
20. $100 Cash -Randy McMahon-Seltz, ND
21. $100 Justin Heil-Harvey, ND
22. $100 Dave Reisensauer-Cole Harbor, ND
23. $100 Jeremy Feist-Harvey, ND
24. $100 Cash-Denise Thompson-Lisbon,ND
25. $100 Cash -Rick Trudel-Glydon-Glyndon, MN
Smaller prizes were raffles at the Chili Feed. 
---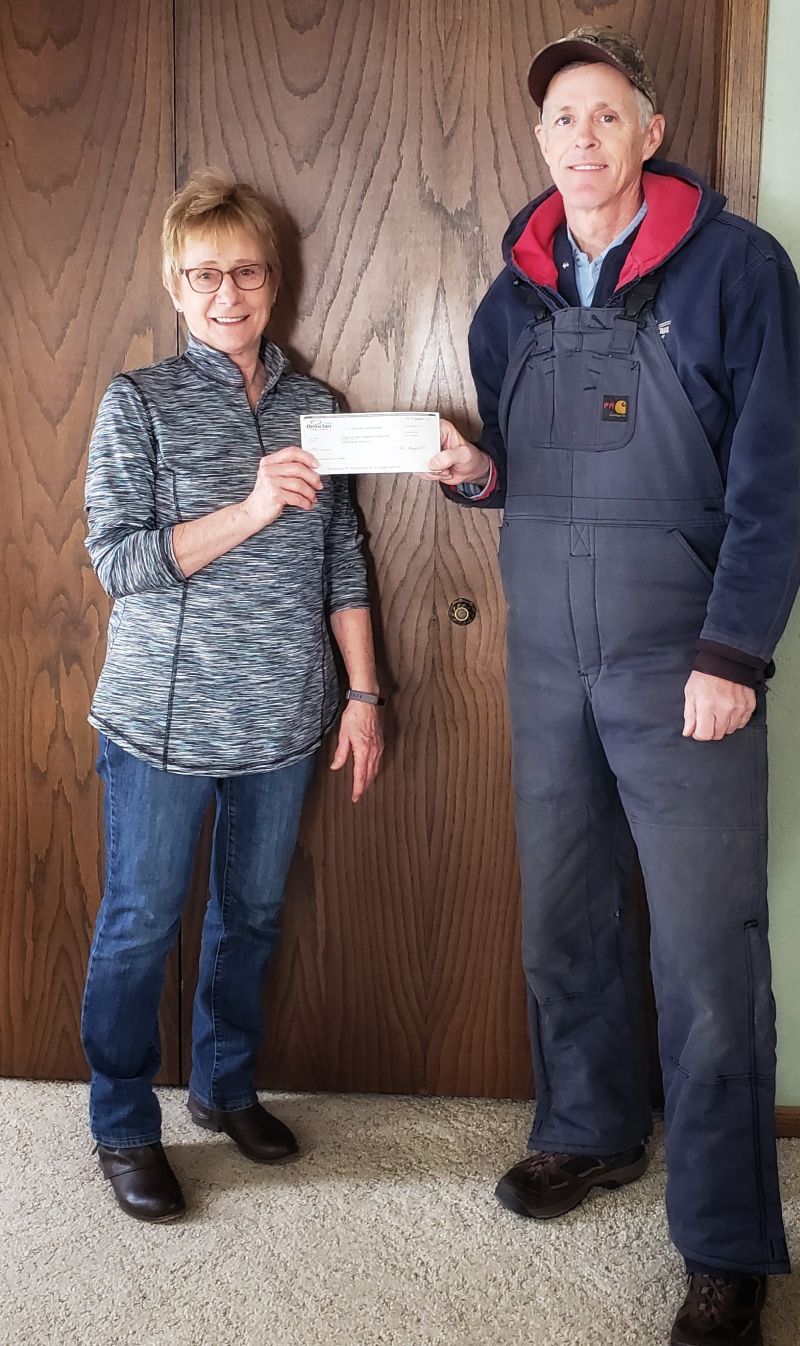 Norma getting money from Dave Voeller
ANAMOOSE AREA COMMUNITY FOUNDATION DONATIONS
Ottertail Power Co.
Terpening Construction, Maddock
Nelson Funeral Home, Fessenden-Drake
HAVIT Services, Harvey
NDTC, Devils Lake
Doc's Lodge, Anamoose
First State Bank of Harvey, Anamoose-Harvey
United Community Bank, Drake
Warehouse Grocery, Harvey
Hertz Funeral Home, Harvey
The Anamoose Area Community Foundation would like to thank the above mentioned businesses for not only serving the needs of our community, but also for donating to the Anamoose Area Community Foundation endowment fund;  Many individual donors also contributed to the fund. 
All these donations help make it possible to grant funds for our area Fire Dept..,the Anamoose Park for equipment, the Tri-County Meal program for seniors, our Early Explorers HeadStart and Raiders Daycare programs, local Anamoose 8-plex apartmen building and grounds, as well as general city beautification with the restoration of old buildings and city sidewalks. 
2018 marked our 10th anniversary and in the past 10 years we have awarded more than $58,000.00 in grants.  
---
NEW SIDEWALKS FOR ANAMOOSE
The two blocks on Main Street have new sidewalks to replace the old crumbling uneven ones. The Fire Hall sidewalks did not need to be replaced. 
The cost is shared by the city, businesses and donations. Business owners will be assessed payments over ten years with no interest. In 2013 the Anamoose Civic Club gave $5,700. The Anamoose Area Community Fund gave four grants totaling $3900.
The work was done by Terpening Construction of Maddock.
---
AGRICULTURAL PARTNERS: HOME GROWN SUPPORT
Please consider gifting a portion of your harvest this year to the Anamoose Area Community Foundation. It's an easy way to support our area's permanent fund without having to open your checkbook. Plus, you don't have to claim the income from the sale and you can still deduct the cost of production for whatever you donate!
Simply fill out a donation card (available at some of the local elevators) or download it from our website and give it to your broker, co-op, or elevator. They will take care of the rest and you will have made a difference, forever, in our community.

---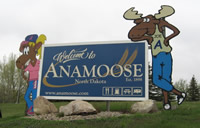 ANAMOOSE ON THE MOVE!
I started to think back on all the improvements in Anamoose over the years, and there have been many. In 2006-2008 Anamoose was in the Horizons program, a community leadership program to reduce poverty. Along with 21 other North Dakota communities, Anamoose finished the 18-month program in June, 2008 with "the wedding of Joe and Ana-Moose". That was when Ana was added to the Anamoose welcome sign.
The biggest and most expensive improvement was paving our streets. It is great to see kids and adults alike out skate boarding, riding bikes, running, and walking. I certainly don't miss raking gravel out of my grass in the spring, and cleaning my windows every time we had a wind from the east. In addition, the City Council purchased a Skid Steer in 2015 that has attachments for snow removal, snow pushing, a broom and bucket that have helped with maintaining our new paved streets year round.
Three years ago the Anamoose City Council also purchased new spray equipment to be mounted in the box of the city truck; and, hired Brady Schmaltz to spray the city for mosquitoes at least once a week. This has made working outside and in yards so much more pleasant, especially in the evenings.
A new business on Main Street, the FARMtastics Heritage food Hub, will open next year. The old post office on Main Street has been undergoing a complete renovation to accommodate the many aspects of the food hub. USDA-Rural Development awarded a grant to renovate the building, as did the ND Dept of Commerce-APUC (Agricultural Product Utilization Commission). This being the first and only food hub in North Dakota, the USDA-Rural Development is especially excited to be a part of this project in Anamoose.
What is a food hub? A food hub is a regional/state location to which small growers bring their vegetables, fruits, and berries to be aggregated (gathered together) to be sold as larger lots to restaurants, grocery stores, hospitals, schools, and other related locations. This aggregation enables small growers throughout the area/region/state to sell their limited amounts of produce at better prices than what they are able to charge at farmer's markets. Smaller growers also will be encouraged as a result of this service to expand their production to increase their profits. The benefit to Anamoose itself, will not only be increased tax revenue; but, also the opportunity to purchase a wide array of fresh produce locally. During the winter months, the food hub will process left over fruits and vegetables to sell on line as dry soups, syrups, jams, goat cheese, and many other items.
Two other businesses have been started. Spear Point Arms was just started in September. Scott and Rachel Spear buy and sell guns and do gun transfers. (See previous blog.) The other business, Helm Flying Agronomy, located north of town on Main Street; was opened in 2011. In September,2015, the business was sold to Farmers Union Oil-Anamoose. A new seed treatment was added in 2015. Tony Martin is the manager.
The Arthur Company expanded their business by building a new Agronomy Center on Highway 52 east of Anamoose. Read GRAND OPENING OF ANAMOOSE AGRONOMY CENTER for an article on the open house held on September 7, 2014. They also added a 285,000 bushel bin in Anamoose in the summer of 2015.
A Renaissance Zone was adopted by the City Council a few years ago. The Renaissance Zone requires an application and approval by the City Council to give a tax break to new businesses as well as homes needing repairs that are located within the eight block area surrounding downtown.
Many new Christmas decorations have been purchased by the Civic Club and the City Council. Maurie Becker has been the chairman for this project of replacing old decorations and adding more to the side streets where he has built hangers for the light poles. In addition, he has built storage hangers in the City Maintenance building which keeps the decorations in stable and clean condition-off-season.
The Park Board held many fund raising events and wrote grants over the last three years to raise the money for new playground equipment in the park. Four old cottonwood trees were removed and the area leveled. The equipment was dedicated at the Fall Festival on September 17, 2016.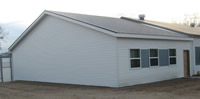 With the death of Pat Jund who operated a day care in Anamoose for many years, the town was left without a much needed daycare. The Anamoose School stepped up, requested and was awarded USDA funds to build a new Little Raiders Day Care on the northeast end of the Elementary School, which opened in the fall of 2015.
New Anamoose Welcome signs have been installed north, south on Highway 14, and east on Highway 52. Last year the landscaping in front of the south entrance welcome sign was redone.
The Anamoose Job Development Authority (JDA), an economic development organization, was activated again and meets monthly. They have a Revolving Loan Grant from USDA of $99,500 to give in low interest loans to parties who are interested in starting a business or expanding an existing business.
The Anamoose Area Community foundation (AACF) that was started with money from participating in the Horizons program now has total assets of $192,899. They have given out 34 grants for a total of $42,853 since 2008.
A new fire hall was built on the northwest end of Main Street in 2007. They have about 25 members, with Jeff Lemer as Fire Chief.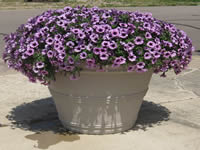 Beautification is being promoted. The City Council adopted ordinances related to keeping yards mowed, trimmed, and free of junk. It also monitors the applications of these ordinances; and, provides a large dumpster for items that can't be picked up during regular garbage pickup. This is part of the Spring Clean-up Week sponsored by the City every May, as well as a Saturday during clean-up week to pick up dead appliances and other metal objects as a service to the town residents. The council also paid for hanging baskets and large pots of flowers every summer; the Civic Club assisting with this expense.
Local businesses sponsor a recycle trailer that receives plastic, paper and cardboard for recycling by HAV-IT in Harvey. In addition, a 20″x 10″grass/leaves compost site was built on the north end of Anamoose to encourage residents to use, rather than making weekly trips to the land dump west of town.
The classic old city fire truck was purchased by the Council so it can be used to water trees, flood the skating rink, and flush the sewer system on a regular basis. In 2014, the sewer lines were flushed for the first time in many years. A new lawn mower is co-owned by the park board and the city.
Our water supply was changed to Rural Water about 2008-2009 when it became clear a major updating of our treatment plant was needed. Now the city no longer has to pay the maintenance expense.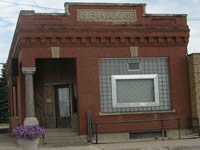 Remodeling of the 1909 Historic Bank will soon be commenced after receiving a $218,642 grant from USDA-Rural Development. The building will be leased upon completion as the 1909 Steakhouse & Saloon.
A Home Rule Charter was sought and passed during the primary election in June, 2008. This charter established a 1% sales tax that is used primarily for infrastructure, snow removal, and other city maintenance expenses.
Several years ago the Anamoose Park Board raised money to put up 100 Fallen Veterans Memorial plaques on light posts about Anamoose. The veterans were mainly from World War I and II. The Park Board still has over 50 plaques yet to purchase.
About three years ago garages were added to the south side of the Anamoose Housing Complex. There is room for eight vehicles. Esther Doubek remarked "We are all real happy as we don't have to scrape our windows in the winter".
Trees have been removed and many new ones planted as I have blogged about recently.
Other projects that were started with the Horizons program and have continued are: this blog and the Anamoose webs site, a monthly calendar now published by Jacque Reis, welcoming of all new residents, welcome package for hunters, lots and homes for sale listed on the web site, Market in the Park, Sunday Brunch at the Anamoose Senior Center the first Sunday of each month, and the skating rink was moved to north of St. Martin's Lutheran Church and is flooded annually by the city.
I have no doubt forgotten some; I'm sure new ones will be added; and I am sure that we will continue with other projects in the future.
---
FIRST ANNUAL FALL-FEST!
It was a beautiful fall day in the neighborhood! The sun was shining brightly inviting everyone to the Anamoose Fall Festival on Saturday, September 17th. A Soup & Sandwich lunch was being served at the VFW Hall by the Auxiliary to get everyone started.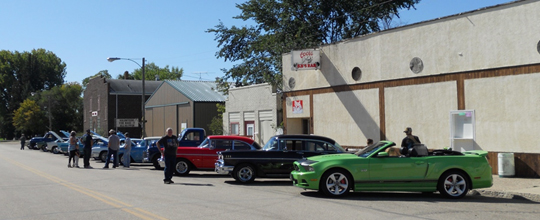 While folks were enjoying their lunch, a bevy of Classic Cars appeared on Main Street with the sounds of Golden Oldies music filling the air and generating energy and anticipation for more. Dave Wangen made arrangements for the car owners to pay Anamoose a visit and show off their prize cars. What a beautiful collection of metal and memories! Remember the parade of cars on Saturday nights on Main Street? Steve Kuske & Dakota Sound & Light provided the music for the car show. People were able to take a musical stroll down memory lane while checking out all the cars.
| | |
| --- | --- |
| | |
In the City Park kids of all ages were exploring the brand new playground, bouncing in the Bouncy Houses, taking rides on the horse drawn wagon around town and enjoying a variety of treats provided by the Park Board members. The Park Board ladies took this opportunity to dedicate the new playground they worked so diligently over the past 3 years to make a reality, with awesome support from the community. Seeing all the smiling faces and taking a quick off the cuff survey of the end-users, I would say the Park Board knocked this one "outta the park".
Over at the Anamoose Senior Center things were beginning to happen. There was a steady stream of people dropping in to leave pies for the Pie Social at the Center. All kinds of pies! There was apple, pumpkin, rhubard, raisin, blueberry, chocolate, peach and oh my . . . While everyone was choosing their favorite kind to have with ice cream and coffee the The Belles & Beaus Square Dancers were getting ready to entertain and have some fun. Plenty of toe tappin' music and skirts twirling while changing partners and promenading and all. Fun to watch the teamwork in action!
| | |
| --- | --- |
| | |

The Park Board served a Spaghetti Supper at the VFW Hall as a fundraiser and got everybody ready for comic entertainment. After a tasty meal and sweet desserts, everyone was ready for some entertainment. The Not So Newlywed Game was offered up as a lighthearted look at local couples and how well they know each other. Kim Meckle served as the cruise director through a sea of questions for the four couples who willingly subjected themselves to this inquiry into their private lives and thoughts. Ron & Sandy Cartwright, George & Shirley Schnellbach, Angie & Scott Mack, and Karissa & Carter Gahner were the participating couples. Lots of laughter was served up during this event, which went into overtime to break a tie score. Everyone enjoyed the good humor!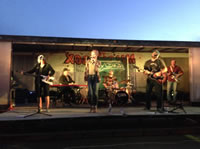 Dusk was falling upon Main Street and the music was beginning to rise up out of the Music Box. even5 had taken the stage and was prepared to rock out the rest of the night to bring this community Fall Festival to a close. Music was great and the program full of diversity with notes and tunes for all.
It was a wonderful day in the neighborhood! Everyone had a very good time! Anamoose can be proud of bringing its community together to celebrate their city and the people who live there. See all of you next year for the 2nd Annual Fall-Fest!
---
ANAMOOSE INCREASES THE GREEN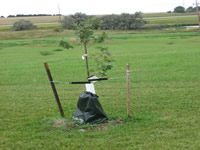 About 90 trees have been planted around Anamoose during the past 4-5 years; and 36 were planted this year alone. This has been done to replace trees that are aging and being removed or will have to be removed in the future.
This year, the City of Anamoose received a $10,000 matching tree grant from the ND Dept of Forestry. In previous years, the City Council obligated approximately $2,000 each year for trees to be planted. In all cases, the labor was donated by volunteers, usually Mike Schmaltz, Torrie Dosch, Joe Dosch, Frank Sieg, and Brad Fletschock. Also, in all cases, the trees have had to be planted on public land. These plantings cannot be done on private property.
This year's Tree Grant paid to remove the four deteriorating trees in the the City Park, and to plant 12 different varieties of trees along the north road extending from Matt and Theresa Rudnick's house east to the City Tree & Leaves Depository; around the curve and east to3rd Street by Dennis and Phyllis Zimmerman's house; and south of the Senior Housing Complex out to Hwy 52 along the west side of 3rd Street. The Tree Grant also paid for the stakes, tree guards, rope, water bags that hold 20 gallons, and mulch. The matching $10,000 was met in-kind by keeping track of the hours worked by the volunteers as well as the hours attributed to City equipment to assist with accomplishing everything.
The Inspector from the Dept of Forestry met with Mike Schmaltz and Bonnie Helm last week; taking a tour of all of the planted sites as well as an inspection of where the trees were removed in the City Park. She indicated she was very pleased with the results. When Bonnie Helm showed her the hours worked by volunteers and the use of City equipment, she indicated she would be submitting her Inspection Report to the ND Dept of Forestry and would recommend disbursal of reimbursement in the amount of $10,000 to the City of Anamoose.
There was some discussion about future tree projects Anamoose might want to pursue; and, she encouraged us to submit grant applications to the ND Dept of Forestry again when the time comes.
---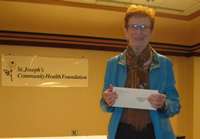 Alyce Heer receiving the grant at the St. Joseph Community Health Foundation awards dinner in Minot.
ANAMOOSE JOB DEVELOPMENT ASSOCIATION (JDA) RECEIVES ANOTHER GRANT FOR FOOD HUB
St. Joseph Community Health Foundation gave a $6,000 matching grant to the Anamoose JDA to make the Farmtastic Food Hub handicapped accessible. The grant will pay for restrooms, wider doors, handrails, and increase the size from 6x6 to 8x8. It will also pay for a handicapped power door opener, ramp and handrails.
This is the third grant received to rehab the historic post office located next to the Anamoose Cafe. 
---
ANNUAL EASTER EGG HUNT
The second annual Easter Egg Hunt at the Anamoose park was held Saturday, March 19th. A large group of children did not waste any time in finding the 3000 eggs that contained candy, money & prizes. Three bikes and a scooter were given away by the Park Board and The Arthur Company-Anamoose/Harvey. 
After the event a meal was served at the VFW along with a cake walk, raffle table and pictures with the Easter Bunny.  Community members furnished salads, bars and cakes.
With the money from this fundraising event the Park Board is getting closer to their goal of purchasing playground equipment for the park.
Collecting eggs at the park.

Cakes for the cake walk.

The Easter bunny with
kids at the VFW.

Prizes for kids.
---
GRAND OPENING OF ANAMOOSE AGRONOMY CENTER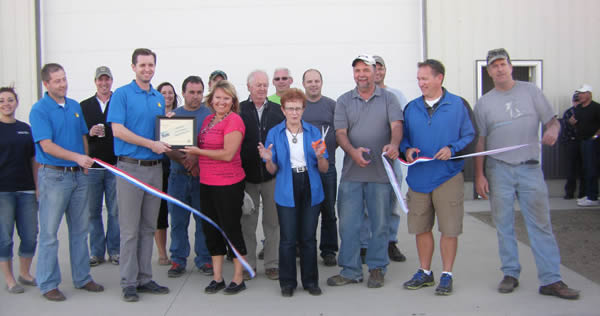 The Grand Opening of the Arthur Companies new Agronomy Center was Wednesday, September 17th. The facility is located two miles west of Anamoose on Highway 52. 
The evening event consisted of a tour of the facility, a ribbon cutting, and a lunch catered from Spectators in Harvey and  served by the Drake/Anamoose FFA. The large building where the lunch was served will be for chemicals and bulk storage. 
They will handle anhydrous ammonia, dry fertilizer, liquid fertilizer, pesticides, bulk soybeans, corn,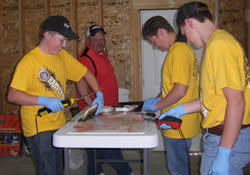 sunflower, and canola seed, and will provide custom application services out of the new site as well. They still need to add six large hopper bins for the soybeans seeds. They plan to have 4-5 employees at the site plus more during the busy seasons. 
The Arthur Companies also sponsored the 2nd Annual Fishing Derby. After the fish were weighed, member of the Harvey FFA cut them up in the back and fried them for the visitors. Forty five fisherman harvested over 75 pounds of walleye. The winning team was: Scott McKinven, Luke Steinberger and Jake Prather. Brad Bruner was the winner of the biggest fish caught.

---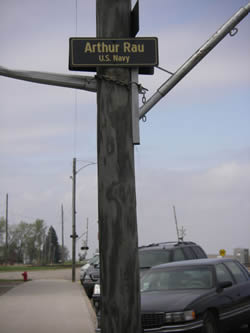 MEMORIAL SIGNS FOR FALLEN SOLDIERS
The Anamoose Park Board sold ice cream last summer at the Market in the Park to raise money for 127 Memorial signs for fallen soldiers who were members of the Anamoose VFW. The Anamoose VFW gave $300, as well as the Anamoose Civic Club gaming fund.
The Park Board gives special thanks to Jermey & Joe Dosch for putting the signs up on posts throughout Anamoose this past weekend. There will be more signs put up later. The signs were purchased from Midwest Graphics in Martin.
Family members can add decorations on the posts for special occasions. Lori Schmaltz purchased a solar light for her husband Doug's sign by her home. If someone wants to purchase a solar light they should contact Lori at 465-7204. The Park Board would like to have a fund raiser to purchase more lights. They would help put them up if help is needed.
---
HISTORIC BANK GETS NEW ROOF
After languishing empty, roof leaking, and sorely neglected on Main Street in Anamoose for 15 years, the 1909 historic brick and marble bank now has a new roof structure and rubber roof.
The bank was purchased in 2010 by a group of individuals who were planning the 2011 Anamoose All School Reunion. They quip now that all they really wanted to do was to paint the trim on the windows and doors, as they did with several other Main Street buildings; but, they had to buy the old bank in order to get that done.
This project started out being called "Save the Bank Association." But, as they began to develop focus, they realized they may purchase other Anamoose historic buildings in the future to renovate them, so the association ultimately incorporated under the name of MainStreams, Inc.
MainStreams, Inc. raised funds to replace the roof through fundraisers such as annual Christmas Home Tours, Holiday Dessert & Beverage Bars, Holiday Fancy Candy & Baked Goods Sales; annual Pinochle Tournaments and Friday Suppers; and Market in the Park concessions, as well as through receipt of several grants.
They will be adding a Heritage Day full-day event this coming summer. Those with connections to Anamoose and its surrounding community who have historic items, stories, pictures, or other interesting items they may be willing to share are encouraged to call Alyce Heer at 465-3476.
MainStreams, Inc. is moving into Phase II of the Historic Bank renovation, which is to install electrical, heating, and air conditioning next.
Plans for the Historic Bank once renovated, include attracting and leasing space to 2-3 small businesses in an ongoing effort to promote economic development in Anamoose.
---
ANAMOOSE PUTS THE "HOME" IN HOMETOWN by Chamonix Martin, Anamoose Alumni
Some places are a "great, big city", an "awesome tourism spot" or a "remote vacation destination". Places like that have stores to shop in, five-star restaurants to eat at, scenic views to see or have some other type of hyped up activity to engage in. Anamoose, North Dakota however, isn't any of those.
Anamoose isn't the kind of place you travel days to vacation to, go shopping in, or visit a theme park at. Anamoose is a small town that's better than all of those combined, because Anamoose, North Dakota, is a home. With it's small population and home town atmosphere, everyone here knows everyone else. Not more than a day can go by without everyone in town knowing who you are when you're new, and they're always more than willing to lend a helping hand. In Anamoose, everyone is neighbor's and friends. It's the type of community that's rich in farm culture and old fashioned ideals that keep it peaceful and welcoming.
From it's busy cafe, to the inviting and updated park, the great school system within it, and the multiple churches, the town of Anamoose is the ideal place to raise a family. Surrounded by communities that are similar to it, the economic growth of the farming and railway based towns is booming, and jobs are easy to come by and the local business's are ones you can be proud to work for. The multiple churches always have an outstretched hand to anyone in need, and in hard times, you can always count on the people around you to be your support system.
Anamoose might not be the biggest spot on the map of North Dakota, it might not have the largest population, the best athletic teams, or even good cell phone service. But, you can count on Anamoose having the biggest heart, the most wholesome fun, and the friendliest faces on the streets. You can be guaranteed that Anamoose, North Dakota puts the 'home' in 'hometown'.
---
ANAMOOSE HIGHWAY SIGNS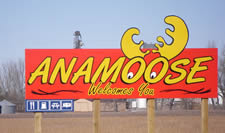 Anamoose has three new signs coming into town from the east, south and north. The project was started by the Anamoose Civic Club, but funds were also obtained from the Minot Magic Fund and the McHenry County Job Development Authority.
The signs were made by Midwest Graphics from Martin. The Stenehjem, Jerome Peerboom and Kenny Rudnick families consented to have the signs put on their property
.