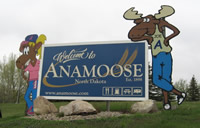 ANAMOOSE ON THE MOVE!
I started to think back on all the improvements in Anamoose over the years, and there have been many. In 2006-2008 Anamoose was in the Horizons program, a community leadership program to reduce poverty. Along with 21 other North Dakota communities, Anamoose finished the 18-month program in June, 2008 with "the wedding of Joe and Ana-Moose". That was when Ana was added to the Anamoose welcome sign.
The biggest and most expensive improvement was paving our streets. It is great to see kids and adults alike out skate boarding, riding bikes, running, and walking. I certainly don't miss raking gravel out of my grass in the spring, and cleaning my windows every time we had a wind from the east. In addition, the City Council purchased a Skid Steer in 2015 that has attachments for snow removal, snow pushing, a broom and bucket that have helped with maintaining our new paved streets year round.
Three years ago the Anamoose City Council also purchased new spray equipment to be mounted in the box of the city truck; and, hired Brady Schmaltz to spray the city for mosquitoes at least once a week. This has made working outside and in yards so much more pleasant, especially in the evenings.
A new business on Main Street, the FARMtastics Heritage food Hub, will open next year. The old post office on Main Street has been undergoing a complete renovation to accommodate the many aspects of the food hub. USDA-Rural Development awarded a grant to renovate the building, as did the ND Dept of Commerce-APUC (Agricultural Product Utilization Commission). This being the first and only food hub in North Dakota, the USDA-Rural Development is especially excited to be a part of this project in Anamoose.
What is a food hub? A food hub is a regional/state location to which small growers bring their vegetables, fruits, and berries to be aggregated (gathered together) to be sold as larger lots to restaurants, grocery stores, hospitals, schools, and other related locations. This aggregation enables small growers throughout the area/region/state to sell their limited amounts of produce at better prices than what they are able to charge at farmer's markets. Smaller growers also will be encouraged as a result of this service to expand their production to increase their profits. The benefit to Anamoose itself, will not only be increased tax revenue; but, also the opportunity to purchase a wide array of fresh produce locally. During the winter months, the food hub will process left over fruits and vegetables to sell on line as dry soups, syrups, jams, goat cheese, and many other items.
Two other businesses have been started. Spear Point Arms was just started in September. Scott and Rachel Spear buy and sell guns and do gun transfers. (See previous blog.) The other business, Helm Flying Agronomy, located north of town on Main Street; was opened in 2011. In September,2015, the business was sold to Farmers Union Oil-Anamoose. A new seed treatment was added in 2015. Tony Martin is the manager.
The Arthur Company expanded their business by building a new Agronomy Center on Highway 52 east of Anamoose. Read GRAND OPENING OF ANAMOOSE AGRONOMY CENTER for an article on the open house held on September 7, 2014. They also added a 285,000 bushel bin in Anamoose in the summer of 2015.
A Renaissance Zone was adopted by the City Council a few years ago. The Renaissance Zone requires an application and approval by the City Council to give a tax break to new businesses as well as homes needing repairs that are located within the eight block area surrounding downtown.
Many new Christmas decorations have been purchased by the Civic Club and the City Council. Maurie Becker has been the chairman for this project of replacing old decorations and adding more to the side streets where he has built hangers for the light poles. In addition, he has built storage hangers in the City Maintenance building which keeps the decorations in stable and clean condition-off-season.
The Park Board held many fund raising events and wrote grants over the last three years to raise the money for new playground equipment in the park. Four old cottonwood trees were removed and the area leveled. The equipment was dedicated at the Fall Festival on September 17, 2016.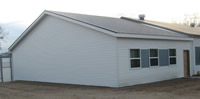 With the death of Pat Jund who operated a day care in Anamoose for many years, the town was left without a much needed daycare. The Anamoose School stepped up, requested and was awarded USDA funds to build a new Little Raiders Day Care on the northeast end of the Elementary School, which opened in the fall of 2015.
New Anamoose Welcome signs have been installed north, south on Highway 14, and east on Highway 52. Last year the landscaping in front of the south entrance welcome sign was redone.
The Anamoose Job Development Authority (JDA), an economic development organization, was activated again and meets monthly. They have a Revolving Loan Grant from USDA of $99,500 to give in low interest loans to parties who are interested in starting a business or expanding an existing business.
The Anamoose Area Community foundation (AACF) that was started with money from participating in the Horizons program now has total assets of $192,899. They have given out 34 grants for a total of $42,853 since 2008.
A new fire hall was built on the northwest end of Main Street in 2007. They have about 25 members, with Jeff Lemer as Fire Chief.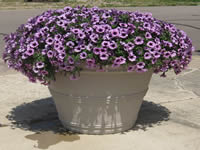 Beautification is being promoted. The City Council adopted ordinances related to keeping yards mowed, trimmed, and free of junk. It also monitors the applications of these ordinances; and, provides a large dumpster for items that can't be picked up during regular garbage pickup. This is part of the Spring Clean-up Week sponsored by the City every May, as well as a Saturday during clean-up week to pick up dead appliances and other metal objects as a service to the town residents. The council also paid for hanging baskets and large pots of flowers every summer; the Civic Club assisting with this expense.
Local businesses sponsor a recycle trailer that receives plastic, paper and cardboard for recycling by HAV-IT in Harvey. In addition, a 20″ x 10″ grass/leaves compost site was built on the north end of Anamoose to encourage residents to use, rather than making weekly trips to the land dump west of town.
The classic old city fire truck was purchased by the Council so it can be used to water trees, flood the skating rink, and flush the sewer system on a regular basis. In 2014, the sewer lines were flushed for the first time in many years. A new lawn mower is co-owned by the park board and the city.
Our water supply was changed to Rural Water about 2008-2009 when it became clear a major updating of our treatment plant was needed. Now the city no longer has to pay the maintenance expense.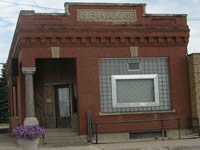 Remodeling of the 1909 Historic Bank will soon be commenced after receiving a $218,642 grant from USDA-Rural Development. The building will be leased upon completion as the 1909 Steakhouse & Saloon.
A Home Rule Charter was sought and passed during the primary election in June, 2008. This charter established a 1% sales tax that is used primarily for infrastructure, snow removal, and other city maintenance expenses.
Several years ago the Anamoose Park Board raised money to put up 100 Fallen Veterans Memorial plaques on light posts about Anamoose. The veterans were mainly from World War I and II. The Park Board still has over 50 plaques yet to purchase.
About three years ago garages were added to the south side of the Anamoose Housing Complex. There is room for eight vehicles. Esther Doubek remarked "We are all real happy as we don't have to scrape our windows in the winter".
Trees have been removed and many new ones planted as I have blogged about recently.
Other projects that were started with the Horizons program and have continued are: this blog and the Anamoose webs site, a monthly calendar now published by Jacque Reis, welcoming of all new residents, welcome package for hunters, lots and homes for sale listed on the web site, Market in the Park, Sunday Brunch at the Anamoose Senior Center the first Sunday of each month, and the skating rink was moved to north of St. Martin's Lutheran Church and is flooded annually by the city.
I have no doubt forgotten some; I'm sure new ones will be added; and I am sure that we will continue with other projects in the future.
---
FIRST ANNUAL FALL-FEST!
It was a beautiful fall day in the neighborhood! The sun was shining brightly inviting everyone to the Anamoose Fall Festival on Saturday, September 17th. A Soup & Sandwich lunch was being served at the VFW Hall by the Auxiliary to get everyone started.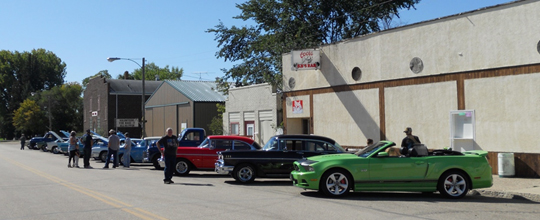 While folks were enjoying their lunch, a bevy of Classic Cars appeared on Main Street with the sounds of Golden Oldies music filling the air and generating energy and anticipation for more. Dave Wangen made arrangements for the car owners to pay Anamoose a visit and show off their prize cars. What a beautiful collection of metal and memories! Remember the parade of cars on Saturday nights on Main Street? Steve Kuske & Dakota Sound & Light provided the music for the car show. People were able to take a musical stroll down memory lane while checking out all the cars.
| | |
| --- | --- |
| | |
In the City Park kids of all ages were exploring the brand new playground, bouncing in the Bouncy Houses, taking rides on the horse drawn wagon around town and enjoying a variety of treats provided by the Park Board members. The Park Board ladies took this opportunity to dedicate the new playground they worked so diligently over the past 3 years to make a reality, with awesome support from the community. Seeing all the smiling faces and taking a quick off the cuff survey of the end-users, I would say the Park Board knocked this one "outta the park".
Over at the Anamoose Senior Center things were beginning to happen. There was a steady stream of people dropping in to leave pies for the Pie Social at the Center. All kinds of pies! There was apple, pumpkin, rhubard, raisin, blueberry, chocolate, peach and oh my . . . While everyone was choosing their favorite kind to have with ice cream and coffee the The Belles & Beaus Square Dancers were getting ready to entertain and have some fun. Plenty of toe tappin' music and skirts twirling while changing partners and promenading and all. Fun to watch the teamwork in action!
| | |
| --- | --- |
| | |

The Park Board served a Spaghetti Supper at the VFW Hall as a fundraiser and got everybody ready for comic entertainment. After a tasty meal and sweet desserts, everyone was ready for some entertainment. The Not So Newlywed Game was offered up as a lighthearted look at local couples and how well they know each other. Kim Meckle served as the cruise director through a sea of questions for the four couples who willingly subjected themselves to this inquiry into their private lives and thoughts. Ron & Sandy Cartwright, George & Shirley Schnellbach, Angie & Scott Mack, and Karissa & Carter Gahner were the participating couples. Lots of laughter was served up during this event, which went into overtime to break a tie score. Everyone enjoyed the good humor!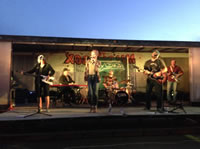 Dusk was falling upon Main Street and the music was beginning to rise up out of the Music Box. even5 had taken the stage and was prepared to rock out the rest of the night to bring this community Fall Festival to a close. Music was great and the program full of diversity with notes and tunes for all.
It was a wonderful day in the neighborhood! Everyone had a very good time! Anamoose can be proud of bringing its community together to celebrate their city and the people who live there. See all of you next year for the 2nd Annual Fall-Fest!
---
ANAMOOSE INCREASES THE GREEN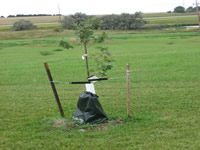 About 90 trees have been planted around Anamoose during the past 4-5 years; and 36 were planted this year alone. This has been done to replace trees that are aging and being removed or will have to be removed in the future.
This year, the City of Anamoose received a $10,000 matching tree grant from the ND Dept of Forestry. In previous years, the City Council obligated approximately $2,000 each year for trees to be planted. In all cases, the labor was donated by volunteers, usually Mike Schmaltz, Torrie Dosch, Joe Dosch, Frank Sieg, and Brad Fletschock. Also, in all cases, the trees have had to be planted on public land. These plantings cannot be done on private property.
This year's Tree Grant paid to remove the four deteriorating trees in the the City Park, and to plant 12 different varieties of trees along the north road extending from Matt and Theresa Rudnick's house east to the City Tree & Leaves Depository; around the curve and east to3rd Street by Dennis and Phyllis Zimmerman's house; and south of the Senior Housing Complex out to Hwy 52 along the west side of 3rd Street. The Tree Grant also paid for the stakes, tree guards, rope, water bags that hold 20 gallons, and mulch. The matching $10,000 was met in-kind by keeping track of the hours worked by the volunteers as well as the hours attributed to City equipment to assist with accomplishing everything.
The Inspector from the Dept of Forestry met with Mike Schmaltz and Bonnie Helm last week; taking a tour of all of the planted sites as well as an inspection of where the trees were removed in the City Park. She indicated she was very pleased with the results. When Bonnie Helm showed her the hours worked by volunteers and the use of City equipment, she indicated she would be submitting her Inspection Report to the ND Dept of Forestry and would recommend disbursal of reimbursement in the amount of $10,000 to the City of Anamoose.
There was some discussion about future tree projects Anamoose might want to pursue; and, she encouraged us to submit grant applications to the ND Dept of Forestry again when the time comes.
---
2016 ANAMOOSE AREA COMMUNITY FOUNDATION GRANTS AWARDED
Anamoose Area Community Foundation gave out grants to three non-profit organizations at the Anamoose Senior Center on Sunday, August 7th. $2500 grants were given out to:
This is the 6th year that grants have been given out. A total of more than $35,000 has been given out for more than 30 projects. The current endowment fund is $195,000. 
Members of the Anamoose Advisory Board are: Alyce Heer, President; Joe Weninger, Vice-president; Shirley Nitz, Secretary/Treasurer; Norman Martin, Rose Weninger, Phyllis Zimmerman, Dick Hauser, & Julie Fahy.
| | | |
| --- | --- | --- |
| | | |
| Lorie Schmaltz, Anamoose Park Board, accepts a $2500 grant from Joe Weninger, AACF | Myrna Muffenbeir, Director & Bill Goodwin, Board member, (right) accept a $2500 grant for McHenry County Meals & Services from Joe Weninger, AACF. | Joe Weninger, AACF, presents Bonnie Helm with a $2500 grant for MainStreams. |
---
HARVEY AMBULANCE DISCUSSION MEETING ON MILL LEVY VOTE
Last evening a large crowd gathered at the Senior Center to hear about the proposed 10 mill levy for the Harvey Ambulance Service that will be on the June ballot . The meeting was conducted by the ambulance service members on a question/answer format. Ambulance members at the meeting were: Scott Spear, Shelly Stafford, Marla & Monte Countess, Kerry Susag, & Dusty Kost.
In 2006 the Harvey Ambulance Service had 53 members on their roster, and now only have 19. Each member works a full time job in addition to volunteering. Average training hours for an ambulance person (initial) is 80 hours for Emergency Medical Responder (EMR), 120-180 hours for Emergency Medical Technician (EMT), & 1500-1800 hours for a Paramedic. Then they have to be recertified every 2 years : EMR-16 hours, EMT-40 hours, &Paramedic-60 hours. Paramedics are the only ones that can start an IV. The state requires them to have 2 people on call within the bay or within 10 minutes of the bay.
The ambulance service was organized in 1971 & is currently licensed as a Basic Life Support Ambulance with Advanced Life Support capabilities. They cover an area of 900 square miles-that is a lot of territory!
Marla Countess, the only paramedic in the area, stated "I've got to have some help!" She puts in 72 hours a week ( 3500 hours a year) on call, in addition to working on her farm. Her daughter & son-in-law relieve her when they can. Marla has been on the service for 10 years after paying her own way for Paramedic schooling. "I do it because people need it".
Carol Jean Nichols, Drake, spoke out in favor of the mill levy. "I would have been dead at least 4 times if it weren't for you".
Of course as at any meeting involving funds there were concerns as to how the money will be appropriated. At the next meeting in Harvey, Shelly Stafford, treasurer, will bring the financial record as there were inquires about finances.
The average call day has less than one call a day, or 280 calls this past year, but they have had up to four calls in a 12 hour shift. The volunteers are paid $60 shift, & need to take at least 12 shifts a year. With the mill levy they could be paid $10 an hour. Harvey is one of the busiest ambulance services.
Anamoose still has a quick response rig, but it can't be used to transport patients. It has the same equipment as an ambulance.
The average income from an ambulance call is only 66% from Medicare/Medicaid, & 89% from Blue Cross/Blue Shield. They wrote off $100,000 last year. The question came up on what happened to the $250,000 they had in CDs & savings in 2010. Scott Spear replied that since then they have a new building & a new ambulance. He stressed that the mill levy would be used only for paying volunteers. If the mill levy passes in June, a district board must meet within two weeks to set up a budget. The board will decide how much of the ten mills they will need. In the past the ambulance service has been receiving money from grants, but it is getting harder to get that money as they have to go together with other districts.. Last year they received $32,000 in grant money. The three ways to get current funding is: fund raising, donations & billing.
Area ambulance services that are funded by mill levy are: Fessenden, Bowden, Maddock, McClusky, Towner, & Velva.
The mill levy is important to provide staffing for the service. If people are not willing to volunteer then Harvey Ambulance Service needs to be able to pay qualified individuals to meet the state requirement".
---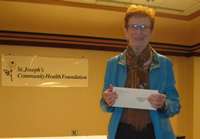 Alyce Heer receiving the grant at the St. Joseph Community Health Foundation awards dinner in Minot.
ANAMOOSE JOB DEVELOPMENT ASSOCIATION (JDA) RECEIVES ANOTHER GRANT FOR FOOD HUB
St. Joseph Community Health Foundation gave a $6,000 matching grant to the Anamoose JDA to make the Farmtastic Food Hub handicapped accessible. The grant will pay for restrooms, wider doors, handrails, and increase the size from 6x6 to 8x8. It will also pay for a handicapped power door opener, ramp and handrails.
This is the third grant received to rehab the historic post office located next to the Anamoose Cafe. 
---
ANNUAL EASTER EGG HUNT
The second annual Easter Egg Hunt at the Anamoose park was held Saturday, March 19th. A large group of children did not waste any time in finding the 3000 eggs that contained candy, money & prizes. Three bikes and a scooter were given away by the Park Board and The Arthur Company-Anamoose/Harvey. 
After the event a meal was served at the VFW along with a cake walk, raffle table and pictures with the Easter Bunny.  Community members furnished salads, bars and cakes.
With the money from this fundraising event the Park Board is getting closer to their goal of purchasing playground equipment for the park.
Collecting eggs at the park.

Cakes for the cake walk.

The Easter bunny with
kids at the VFW.

Prizes for kids.
---
DRAKE/ANAMOOSE RAIDERS
The Drake/Anamoose Raiders took first place in the 2016 district boy's basketball tournament at Bottineau. Cordell Volson and Lee Reinowski made the all district team and Cordell was chosen district athlete of the year.
Lee Reinowski, Darrell Keller,
Doug Martin and Cordell Volson.
At the regional tournament in Minot Cordell Volson was picked for regional senior athlete of the year. (picture of Cordell Volson) Lee Reinowski and Cordell received the award of being on the regional tournament team. Coach Doug Martin received the regional coach of the year. Assistant coach is Darrell Keller.
2016 Anamoose/Drake Raiders
---
2016 ANAMOOSE FIRE DISTRICT WINNERS
The winners of the Anamoose Fire District raffle were announced Saturday, February 20th at a Chile Feed at the VFW Hall. 1750 $30 tickets were sold for $30,000 in prizes. The money raised will go to the purchase of a new Rescue Truck.
Following are the winners:
1. Ice Castle-Luke Anderson, Forman, ND
2. Honda Pioneer-Mike Thorpe, Ellendale, ND
3. Otter Lodge-Rick Erickson, Velva, ND
4. Sony TV-Cory Nelson, Bismarck, ND
5. Remington Gun-Wade Wolf, Fargo, ND
6 Gun Safe-John Egstad, Crookston, MN
7 Teager Grill-Jory Hager, Anamoose, ND
8. Vexilar-Todd Degenstein, Anamoose, ND
9. Dewalt 5pc-Jory Buchweits, Minot, ND
10. Ion Ice Auger-Kent Neppl, Maddock, ND
11. $200-Tracy Degenstein, Forman, ND
12. $200-Steven Lemer, Drake, ND
13 $200-Gordie Schmitt, Harvey, ND
14. $200 Brady Lageson, Drake, ND
15. $200-Brandt Jenner, Harvey, ND
16. $100-Jill Stevens, Fessenden, ND
17 $100-Lydell Martin, Anamoose, ND
18. $100-Mark Engen, Anamoose, ND
19 $100-James Jorstad, Mcgregor, ND
20. $100-Rod Keller, Max, ND
21. $100-Corey Miller, Surrey, ND
22. $100-Tim Schmiess, Harvey, ND
23. $100-Galen Vollmer, Harvey, ND
24. $100-Ryan Ones, Kenmare, ND
25. $100-Dave Kenney, Bismarck, ND
---
ANAMOOSE JDA RECEIVES TWO GRANTS
Anamoose JDA recently received two USDA Rural Development grants and became the fiscal sponsor of a ND Dept of Commerce grant all totaling close to $225,000.
The first is a grant to renovate the former Sally's Upholstery (or Old Post Office) building on Main Street just south of the new Fire Hall and north of the Anamoose Café and Bakery. The Anamoose JDA owns this building now and will renovate it to be used as a food hub…in the fact the first food hub in North Dakota.
What is a food hub? One of the highest priorities of the US Secretary of Agriculture, as well as the USDA, a food hub makes it possible for small growers to grow organically and sell their produce locally and regionally, which makes "Grow Local, Shop Local, Eat Fresh" possible. The Anamoose FARMtastic Food Hub will buy local/regional produce, fruits, and berries; aggregate them to make them more saleable in bulk; and market these produce, fruits, and berries to local/regional grocery stores, hospitals, schools, restaurants, and others.
The USDA food hub grant of $72,030 will allow the JDA to completely gut the building, update and/or move plumbing, electrical, and heating systems; replace the furnace and water heater; insulate, sheetrock, and paint; replace doors and windows; install new ceilings and floorings; and divide the main floor into a main sales area, a small bakery and afternoon coffee area, and large commercial kitchen. In the basement, a walk-in cooler will be installed along with cool storage areas. The second story, formerly one bedroom apartments, has been gutted but is not included under any of these grants.
The JDA also became the fiscal sponsor for a ND Department of Commerce grant of $52,900 to completely outfit the food hub's commercial kitchen including with a commercial dehydrator. This space will be a certified kitchen and available to the public to use for canning, freezing, dehydrating, catering, and much more.
The second USDA grant of $99,500 provides the Anamoose JDA with a Revolving Loan Fund to make loans to new or existing entrepreneurs wanting to start or expand a business in Anamoose. More information about this benefit will be provided in another article soon.
A fourth grant is being sought to make the food hub building, restroom, and parking area handicapped accessible. Bonnie Helm, Anamoose resident, is providing her writing expertise on a volunteer consultant basis through her business: B. Helm Consulting & Grantwriting Services, LLC, which she has owned and operated for the past 30 years.
---
THE ANAMOOSE AREA COMMUNITY FOUNDATION (AACF) held its 4th annual Cash Raffle. A total of 500 tickets were sold and 20 winners were drawn. The drawing was held Sunday December 6th at the Senior Citizen Center Brunch. The 20 lucky winners this year are as follows:
Accepting the $550 cash prize for
Terry Heinrich is his son, Adam.

Anamoose winners: Esther Doubek - $50; LaDonna Goodwin - $150; Kathy Rademacher (from two tickets a $200 and a $100 ) - $300; and Marvin Stotz - $250. Harvey winners: Tim Buckwitz - $50; Zach Haepfer - $50; Vernon Helm - $100; Shirley Johnson - $100; Steve Kourajian - $100; Barb Sisson - $50; Don Schmidt - $50; Barb Schulz - $100; and Jeanette Weltz - $150;  Denhoff winner: Jim Paulus - $50; Goodrich winner: Ryan Filler - $250; Fargo winner: Wendy Weninger - $50; West Fargo winner: Dorothy Nelson - $50; and Washburn winner:  Hank Helm - $50.

Congratulations to the grand prize winner of the $550 cash prize, Terry Heinrich of Harvey. Terry is co-owner of the Super Value store in Harvey and has always been a very generous supporter not only to AACF but also to many organizations throughout the area communities.

 

AACF extends sincere thanks and appreciates everyone who has ever supported in any way  the many projects AACF has sponsored over the years. Established in the year 2008, AACF has been able to distribute over $39,000 in grant funds to several area non-profit organizations including the Anamoose Fire Department, Anamoose Park Board, Anamoose Senior Center, Tri-County Meals on Wheels, MainStreams, and the Anamoose Little Raiders Day Care Center Project in process. Greetings to all for a Merry Christmas and a Happy New Year!
---
ANAMOOSE AREA COMMUNITY FOUNDATION GRANTS
The 2015 Anamoose Area Community Foundation grants were given out Sunday, August 2nd, at the Anamoose Senior Center during their Senior Brunch.
Five grants were given out to the following non-profit organizations:
$3,000 Little Raider's Day Care-building. Pictured is Steve Heim (L) accepting grant from Joe Weninger
$2,500 Anamoose Park Board-playground equipment. Pictured is Jaque Reis accepting Park Board grant
$1,000 Anamoose Senior Citizens-roof repair. Pictured is Ron Cartwright (R) accepting grant from Joe Weninger
$1,000 Senior Meals & Services-matching funds for senior meals. Pictured is Bill Goodwin accepting grant
$400 MainStreams-replace hot water heat radiators. Pictured is Bonnie Helm accepting MainStreams grant.
Over $34,000 in grants has been given out to local non-profit organizations. In the past grants have also been given out to: Anamoose Fire Department for equipment and building, City of Anamoose for sidewalks, and Anamoose Housing for improvements.
Little Raider's Day Care
-building

Anamoose Park Board-
playground equipment

Anamoose Senior Citizens-
roof repair
Senior Meals & Services-
matching funds for senior meals

MainStreams-
replace hot water heat radiators
---
BUSY SUMMER AT THE ANAMOOSE SCHOOL
There are many activities at the Anamoose School this summer.
A crew of five from Tom's Home Furnishings in Harvey are laying linoleum in all the classrooms and hallways. They started June 8th and plan to be done in six weeks.
H.A. Thompson and Son's crew is installing new unit ventilators, air conditioning, temperature controls and
boiler pumps in all rooms except the office, gym and shop. Each room package will have a heating and air-conditioning unit. This project will take several weeks.
The new Anamoose Principal, Melissa Melaas, was busy painting her office.
Superintendant Steve Heim stated the Anamoose School Board voted Monday to add a new 30 X 50 daycare/pre-k addition. It will be added east of the present school where the buses are now parked and will match the old school. Heringer Lumber got the bid and Becker Construction will construct the building. Plans are to start construction this fall, but the plumbing and heating won't be done until later.
---
GRAND OPENING OF ANAMOOSE AGRONOMY CENTER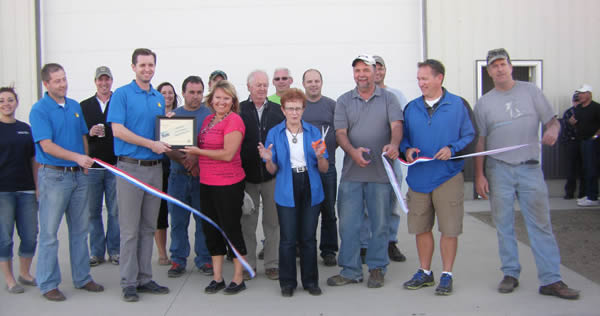 The Grand Opening of the Arthur Companies new Agronomy Center was Wednesday, September 17th. The facility is located two miles west of Anamoose on Highway 52. 
The evening event consisted of a tour of the facility, a ribbon cutting, and a lunch catered from Spectators in Harvey and  served by the Drake/Anamoose FFA. The large building where the lunch was served will be for chemicals and bulk storage. 
They will handle anhydrous ammonia, dry fertilizer, liquid fertilizer, pesticides, bulk soybeans, corn,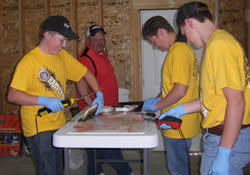 sunflower, and canola seed, and will provide custom application services out of the new site as well. They still need to add six large hopper bins for the soybeans seeds. They plan to have 4-5 employees at the site plus more during the busy seasons. 
The Arthur Companies also sponsored the 2nd Annual Fishing Derby. After the fish were weighed, member of the Harvey FFA cut them up in the back and fried them for the visitors. Forty five fisherman harvested over 75 pounds of walleye. The winning team was: Scott McKinven, Luke Steinberger and Jake Prather. Brad Bruner was the winner of the biggest fish caught.

---
Keith Reinowski and Angie Mack
MIDWEST GRAPHICS & SIGNS MOVES
Keith Reinowski has moved his business, Midwest Graphics & Designs from Martin to his farm, four miles north & 1¾ miles west of Anamoose.
He started his business in his garage in Harvey on April 1st, 2001. He moved to Martin in 2002. 
Angie Mack has worked part time for Keith for eight years. They make many different signs, such as ones for custom farm equipment, towns, mirrors, vehicles, political signs, banners (wedding, graduation, etc) & business cards.
They also have added personalized clocks that can be ordered in many colors. 
Signs have been shipped as far as the tip of Texas. Word of mouth has been Keith's best advertising as customers tell about his business to friends & family all over the United States. 
The Welcome to Anamoose signs north, east & west of Anamoose were made at Midwest Graphics & Design, plus Joe & Ana Moose that stand by the Welcome to Anamoose at the south entrance. Much of his business is within 40 miles of Anamoose. 
For more information go to: www.midwestgraphicsandsigns.com 
---
REINOWSKI PLACES SECOND AT STATE
Kristin Reinowski placed second at the state level of Voice of Democracy. Her essay won first at the local & district level before placing second at the state level. Kristin won $200; & then $300 plus a plaque at the state level. This annual audio contest is sponsored by the VFW with the theme for this year "Why I'm Optimistic About Our Nation's Future." The following is her essay:
Why am I optimistic about our Nation's Future?
"Few things in the world are more powerful than a positive push. A smile. A word of optimism & hope. A 'you can do it' when things are though." -Richard M. DeVos
I am a person who loves quotes and when looking for ideas for this essay I found this one and it really struck me. I really try to be a positive person and most of the time I think I succeed in doing so. When thinking about what to write for this essay a lot of negative thoughts popped into my mind, even though, as I said before, I believe myself to be a more positive person. There is a lot of negative going on in our country, but we, as Americans, have to be optimistic enough to know that we are a resilient nation and will bounce back.
Even though our nation has gone through some negative, such as being in debt and the government shut down, we can, and will bounce back into something positive. I can be optimistic about our nation's future because of several factors. We are a free country with many rights and privileges that many other countries are not afforded. We have technology in a wide variety of fields with more advancements being made daily. Communication such as social networking sites and internet make the world more accessible for personal, professional, and political growth. These advancements are convenient but not necessary. However, our basic needs such as clean, running water, power sources, and quality agriculture products are also being maintained. We, as a country, have arisen from a Civil War, a Great Depression, and 9/11 and come out stronger in the end. As Kelly Clarkson would say, "What doesn't kill you makes you stronger."
Some of our nation's optimism shows in the prosperity and jobs being developed. Many of these workers move from states with struggling economies with hopes and dreams of making things better for themselves and their families. They see the positives that moving offers with their own personal sacrifice of leaving their families, previous careers, or businesses. I got to see this while talking to a man who left his home state in the hopes of making life better for him and his family. He drives a truck for an oil company and told me how good it has been for him and his family to move to where he could find a job.
Our nation's optimism starts with us. In order to be optimistic about our nation, we first have to be optimistic about ourselves and our life. We, as students, put our optimism to the test everyday with school, sports, and several other activities. As a future high school graduate, I look forward to the changes and challenges of my future and our nation's future. I just have to keep reminding myself that a positive attitude is so much better than a negative one and that bad is bound to happen, but we need to have faith and believe that everything will get better. Just as I opened my essay with a quote I will close my essay with a different one. In the words of Jack Layton, "my friends, love is better than anger. Hope is better than fear. Optimism better than despair. So let us be loving, hopeful and optimistic. And we'll change the world."
---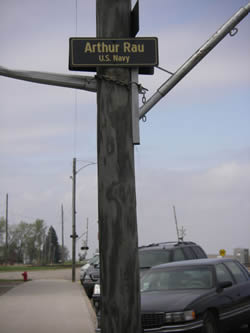 MEMORIAL SIGNS FOR FALLEN SOLDIERS
The Anamoose Park Board sold ice cream last summer at the Market in the Park to raise money for 127 Memorial signs for fallen soldiers who were members of the Anamoose VFW. The Anamoose VFW gave $300, as well as the Anamoose Civic Club gaming fund.
The Park Board gives special thanks to Jermey & Joe Dosch for putting the signs up on posts throughout Anamoose this past weekend. There will be more signs put up later. The signs were purchased from Midwest Graphics in Martin.
Family members can add decorations on the posts for special occasions. Lori Schmaltz purchased a solar light for her husband Doug's sign by her home. If someone wants to purchase a solar light they should contact Lori at 465-7204. The Park Board would like to have a fund raiser to purchase more lights. They would help put them up if help is needed.
---
HISTORIC BANK GETS NEW ROOF
After languishing empty, roof leaking, and sorely neglected on Main Street in Anamoose for 15 years, the 1909 historic brick and marble bank now has a new roof structure and rubber roof.
The bank was purchased in 2010 by a group of individuals who were planning the 2011 Anamoose All School Reunion. They quip now that all they really wanted to do was to paint the trim on the windows and doors, as they did with several other Main Street buildings; but, they had to buy the old bank in order to get that done.
This project started out being called "Save the Bank Association." But, as they began to develop focus, they realized they may purchase other Anamoose historic buildings in the future to renovate them, so the association ultimately incorporated under the name of MainStreams, Inc.
MainStreams, Inc. raised funds to replace the roof through fundraisers such as annual Christmas Home Tours, Holiday Dessert & Beverage Bars, Holiday Fancy Candy & Baked Goods Sales; annual Pinochle Tournaments and Friday Suppers; and Market in the Park concessions, as well as through receipt of several grants.
They will be adding a Heritage Day full-day event this coming summer. Those with connections to Anamoose and its surrounding community who have historic items, stories, pictures, or other interesting items they may be willing to share are encouraged to call Alyce Heer at 465-3476.
MainStreams, Inc. is moving into Phase II of the Historic Bank renovation, which is to install electrical, heating, and air conditioning next.
Plans for the Historic Bank once renovated, include attracting and leasing space to 2-3 small businesses in an ongoing effort to promote economic development in Anamoose.
---
ANAMOOSE PUTS THE "HOME" IN HOMETOWN by Chamonix Martin, Anamoose Alumni
Some places are a "great, big city", an "awesome tourism spot" or a "remote vacation destination". Places like that have stores to shop in, five-star restaurants to eat at, scenic views to see or have some other type of hyped up activity to engage in. Anamoose, North Dakota however, isn't any of those.
Anamoose isn't the kind of place you travel days to vacation to, go shopping in, or visit a theme park at. Anamoose is a small town that's better than all of those combined, because Anamoose, North Dakota, is a home. With it's small population and home town atmosphere, everyone here knows everyone else. Not more than a day can go by without everyone in town knowing who you are when you're new, and they're always more than willing to lend a helping hand. In Anamoose, everyone is neighbor's and friends. It's the type of community that's rich in farm culture and old fashioned ideals that keep it peaceful and welcoming.
From it's busy cafe, to the inviting and updated park, the great school system within it, and the multiple churches, the town of Anamoose is the ideal place to raise a family. Surrounded by communities that are similar to it, the economic growth of the farming and railway based towns is booming, and jobs are easy to come by and the local business's are ones you can be proud to work for. The multiple churches always have an outstretched hand to anyone in need, and in hard times, you can always count on the people around you to be your support system.
Anamoose might not be the biggest spot on the map of North Dakota, it might not have the largest population, the best athletic teams, or even good cell phone service. But, you can count on Anamoose having the biggest heart, the most wholesome fun, and the friendliest faces on the streets. You can be guaranteed that Anamoose, North Dakota puts the 'home' in 'hometown'.
---
ANAMOOSE HIGHWAY SIGNS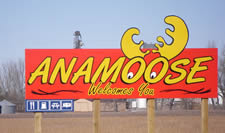 Anamoose has three new signs coming into town from the east, south and north. The project was started by the Anamoose Civic Club, but funds were also obtained from the Minot Magic Fund and the McHenry County Job Development Authority.
The signs were made by Midwest Graphics from Martin. The Stenehjem, Jerome Peerboom and Kenny Rudnick families consented to have the signs put on their property
.