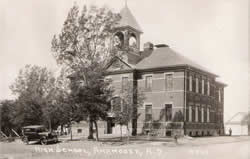 Anamoose High School in 1939
I've been going through my boxes of papers, and this box was labeled "very important", so I began reading some of the old clippings that I have saved through the years. I found this letter from Emma Glotzbach-Mrs. Albert Glotzbach. She and her husband were early pioneers of Anamoose and I imagine quite a few of us old-timers will remember her.
She writes: " I came to Anamoose in the fall of 1901. It was at that time that I filed claim to a quarter section of land, together with my two brothers, William and John Chapek. This claim was 18 miles northwest of Anamoose. Drake, at that time, was not on the map. Later, the Soo Line began placing towns seven or eight miles apart.
At that time, Anamoose drew trade from a distance of 30 miles to the north and from the Lincoln Valley area, as well as east and west. It was said that more freight was unloaded at Anamoose than any other station between St. Paul and Minot.
Farmers would haul grain in large tank wagons (antiques now). They drove to Anamoose one day, returning home the next day, taking with them flour and other commodities which would last them through the winter. Many drove four-horse teams to deliver their crops, and they would return home with coal. On many occasions, the elevators were blocked with grain. When this happened, it was dumped on the ground, to be loaded and shipped later.
At that time, there were five general stores, each one employing three to five clerks. In 1903, Anamoose had four banks, two lumberyards, two hotels, two drug stores, and four doctors. At that time, they charged $15.00 to deliver a baby.
There was a so-called "flat house" used to store grain. When it was empty, it was used by the young people as a place to dance. It was just a tar-papered building, but many a pleasant evening was spent there. That is also where the Catholic Church held their bazaars and other public affairs.
At that time, basket-socials were quite the rage. They were held to raise money for a good cause "whatever that may be". On one occasion, three of us girls got together and made our baskets at the home of a married friend. Our boyfriends (on of them Doc Glotzbach, who later became my husband) were supposed to bid on our baskets, and the six of us could have our lunch together. Unknown to us, the husband of our married friend told some other pranksters what our baskets looked like and they bought my basket after some brisk bidding. I believe that it went for $25.00, but it was for a good cause, and we all had a big laugh.
My father, Frank Chapek, and my uncle, Matt Chapek, played for all the dances and other social affairs back then. A barber by the name of Mike Galgano, who played the harp, would accompany them at times. As time moved on, the Frankhauser brothers, William and Fred, built a store with a second floor, which was used for dancing and other functions. After the new red brick school was built in 1905, they held dances in there until it was taken over for school purposes.
During the threshing season, many transients would arrive to work in the harvest fields. Each threshing crew would consist of about 30 men. On rainy days, they would come into town and spend their hard-earned money.
While North Dakota came in as a dry state, the whiskey came to Anamoose in 60 gallon barrels. Need I say more! We were always glad to see the sun come out and the threshing crew go back to work. The town policemen were the most thankful of all.
There were no automobiles in those days. Everyone was ready to assist his fellow neighbor in time of sickness or death, and people seemed more contented.
The Ernest Schwartz grove was a very popular place for holding picnics and outings, as was the Armstrong grove. They were the only places with a natural growth of trees for miles around. They were always genial hosts and, they too, enjoyed the crowds that gathered there.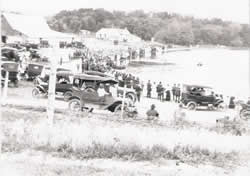 Gathering for a baptism at
Moorhead Ranch #3 (circa 1928)
Another popular place was the Frankhauser Lake where we used to swim and the Baptists would gather to baptize their new converts, as the water was deep enough, with a minister on each side. This called for an all-day picnic.
While the Great Northern was being built and the crew was working at the location that became Aylmer, one of the workmen came to the drug store for some medicine. Naturally, my husband asked him what was wrong. He said, "I'm a sick a da bell. I eat too much da big eye chicken." It seems he had shot and ate a chicken hawk.
Many have asked how Anamoose got its name. The only story I've heard, but I can't vouch for its authenticity, is: While the Soo Line was being built, there were a number of Indians on the crew; of course, they had their own language. They say that a dog kept following the crew and would wait for one of the crew to toss a crust of bread. It seems this dog could eat everything they gave him; he was a hungry dog. That is what Anamoose means in the language. Signed: Mrs. Emma Glotzbach".
I will have to add to this wonderful letter of Mrs. Albert Glotzbach. I had written to the Turtle Mountain Indian Historical Society at Belcourt. The answer I got was, "Dear Helen: I have spoken to the speaker of the Ojibwa language here on our reservations.
The term an-i-mosh means simply, dog. Hungry dog would be buck-a-day animosh. Good dog would be ge-zhi animosh. That was signed by Denise Lajimodiere.
The niece of the president of the Soo Line Railroad Company at that time had the privilege of naming Anamoose. Why she picked that particular name is unknown, or as Mrs. Glotzbach stated, maybe she had heard stories of that hungry dog that hung around the section crews. Sounds good to me.